{department.name}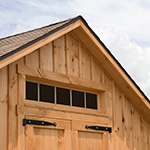 Outdoor Structures
Each of our structures are crafted with a unique personality, creating an aesthetically pleasing shed that is distinctly your own, sure to enhance any property. Most sizes and styles now available in either White Pine Board & Batten, Metal, and Duratemp Siding. We continually aim to build the best shed and garages in the world at an affordable price for small family farms or larger equine facilities. Our pledge to you, our customers, is to maintain a high level of customer service - always going out of our way to answer any question you may have. We want to be the leader in satisfied customers. Through tenacious attention to detail and organization, we also strive to create a workplace that maintains employee satisfaction and ensures a safe environment.

To jump to a specific structure, click on your choice below:
Sheds
Horse Barns
Chicken Coops
Dog Kennels
Gazebos and Pergolas
Playhouses
Playsets
The brochure can be downloaded using the following link:
Options include: (click shed choice for details and examples)
B&B Shed and Horse Barn Options
Listed below are some the many options available for all our barns. Please note that depending on your barn type some of these may already be standard. All standard features are explained under the corresponding barn type web page.
Please download the price list above for a complete list of upgrades and standard features. These buildings are built to your exact specs, so if you do not see an option or upgrade that you want, please inquire about it as chances are we can get it done for you.
All custom inquiries welcome as these buildings can be customized in almost any way you wish.
Roofing Options:
Cupolas & Weathervanes:
B-20" Boston Series
B-27" Boston Series
B-32" Boston Series
B-37" Boston Series
B-48" Boston Series
Available Vents:
Sealer For Siding:
Extra Doors:
Extra Windows:
Partition Options:
Removal 6'6" T&G Partition
1/2 Wall - No Bars
Lean-To & Overhang Options:
Front Wall Upgrade Available
Kick Boards:
Floor Upgrades:
Pressure Treated Joists & Sheathing
Floor Joists 12" On Center
Electricity:
Package: 2 Lights, 1 Switch, 1 Receptacle, 1 Breaker
Siding Options:
Cedar B&B Siding
Duratemp 5/8" Siding
Channel Siding
Small Curry & Supply Cabinet
Large Curry & Supply Cabinet
Two Saddle Tack & Saddle Cabinet
2 Compartment Feed Chest
3 Compartment Feed Chest
Insulation for Tack & Storage:
Insulate Walls & Ceiling w/ R13 and Cover w/1"x6" E&C Beaded Pine
Insulate Only Walls w/ R13
Loft Staircases:
Available Retractable Piano Hinge
Other Options:
Grill On Stall Fronts
2" x 6" Rafters
Ramps
Wood Sheds
Compare some of the standard features below to other sheds and you'll realize why these really are the ultimate in shed design...
Standard Features:
Pressure Treated Floor Joists
Pressure Treated 5/4"x6" Floor Boards
White Pine Board & Batten Siding
30-Year Asphalt Shingles
Sizes:
4' x 8' through 4' x 12'
6' x 8' through 6' x 12'
Larger sizes available, but must be quoted. Will be built to your exact specs
Horse Barn Options:
Run-In Sheds
Shed-Row Barns
Low Profile Barns
High Profile Barns
Monitor Barns
Color Options
Do you want a safe new home for your chickens? Then check out our many different styles & sizes of chicken coops. We are a family owned business that provides quality handcrafted coops that are built by our skilled craftsmen and to fit everyone's budget. Feel free to customize any coop with our many options that are available. Families and children of all ages enjoy collecting fresh eggs everyday. We know your chickens will enjoy their new home in our quality built chicken coop. And you will enhance your backyard and be able to care for your chickens in style and comfort. Thanks for choosing our chicken coops. Our goal is to provide customer satisfaction in every chicken coop purchase
Options
We are family owned and operated. We strive for complete customer satisfaction in providing top of the line kennels and pet structures. We can custom design many more styles and sizes to suit any need.
Our kennels are built on pressure treated floor joists and the run area is built of composite flooring. Our interiors are fully insulated, lined with glassboard and fitted with aluminum dog entry doors for a cleaner environment. All our kennels come with one window and are guaranteed to keep your dog comfortable year round.
Chain Link Kennels
Dog Kennel Options
Dog Kennel Colors
Dog Kennel Examples
Custom Wood Gazebos
Wood gazebos are the traditional gazebo. Many love the feel, look, and over all ambiance wood gives. Wood is able to be stained, painted and refinished. Wood also has a warm feeling that gives its user an at home feel.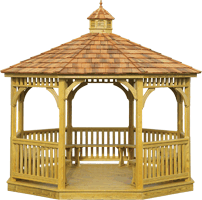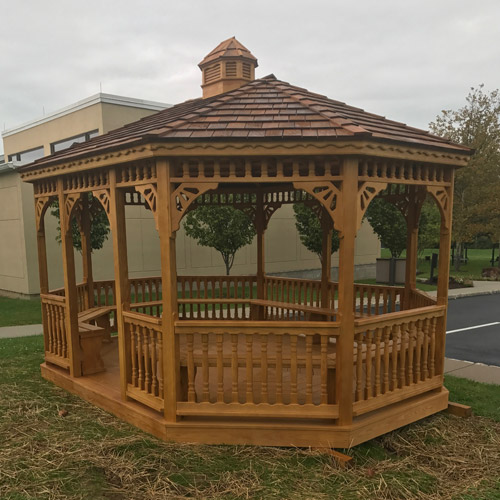 Beautiful new Gazebo just installed at Princeton Montessori by Rosedale Mills!
Custom Vinyl Gazebos
Vinyl gazebos have a classic look with the conveyance of low maintenance. Vinyl gazebos are an up-to-date take on an old tradition. With the clean lines and welcoming brilliance, vinyl gazebos are a great alternative to wood.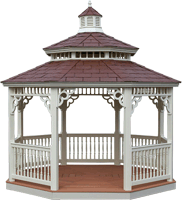 Keystone Gazebos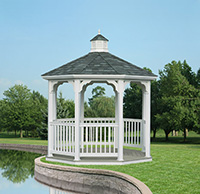 Our Keystone Gazebos are available in both wood and vinyl and maintain a similar look and feel as our custom gazebos. These economy gazebos are made with the same care as our custom gazebos with a few less features. If you are looking for a quality built gazebo at a lower price, our Keystone Gazebo is perfect for you. Click Here to Learn More
Cabanas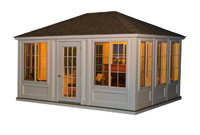 Extend your home with a new cabana for that perfect dream room. Create a place for yourself to relax, recharge, Dream and just get away from it all! Click Here to Learn More
Download Gazebo and Cabana Prices
Pavilions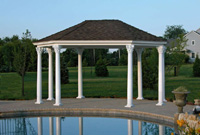 Expand your living area with one of our back yard pavilions, and create the perfect destination for you and your family to retreat to and entertain friends. You will enjoy this perfect oasis in your own back yard. Click Here to Learn More
Pergolas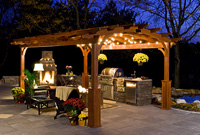 Whether you want to train your vines or roses, create architectural interest in your garden or offer family and friends a great place to relax and enjoy the scenery our pergolas are the perfect choice! Click Here to Learn More
Our beautiful playhouses feature one child-size and one adult-size door for playtime with the whole family. Each model is made with you in mind and will stun even the pickiest of designers.
Examples
Victorian Playhouse Examples
A-Frame with Porch Playhouse Examples
Dutch Clubhouse with Porch Playhouse Examples
Elite Playhouse Examples
Elite with Porch Playhouse Examples
Swing Kingdom is the first manufacturer to produce playground equipment out of PVC and wood material, topped off with stainless steel corner brackets and hardware. We will always continue to strive for superior products that can be enjoyed for years to come, with very minimal maintenance!
LET THE FUN BEGIN!
Please CLICK HERE to visit their website for a complete list of play-sets, colors and accessories.
Sale valid on 4lb, 8lb, and 18lb bags. Not valid with any other discounts or sales.
Valid: 07/12/2019 - 07/19/2019
Offered By: Rosedale Mills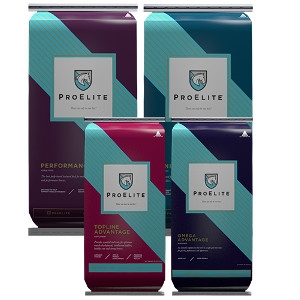 Limited time offer! Check out the new additions to the ProElite line and see what Ultra Premium Feed can do! Not valid with any other discounts or sales.
Valid: 07/12/2019 - 07/31/2019
Offered By: Rosedale Mills