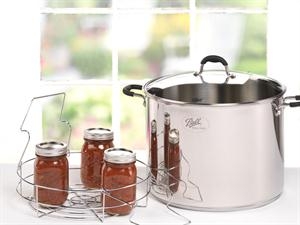 Ball® Collection Elite® Canner with Rack 21-qt
Manufacturer: Ball Packaging Solutions
This Collection Elite® series waterbath canner will last for generations. Durable 18/10 stainless steel and large 21-quart capacity delivers superior performance and premium quality features that home canners will love.
Triple layer base of thick aluminum fused between stainless steel provides even and efficient heat distribution. Compatible with all variety of stovetops.
Silicone covered handles ensure safe, cool and easy handling.
Tempered glass lid with steam vents ensures easy viewing.
Includes chrome-plated rack that resists corrosion and holds jars of any size – large and small.
Perfect for alternate kitchen creations too: soups, stews, seafood and more.